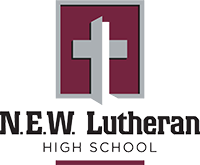 WHY CHOOSE NEW?
There are many reasons that families choose a high school.

Academic achievement, size, elective offerings, location & cost are a few of the reasons that are given.

At NEW Lutheran High, we take great pride in the fact that there are several key factors that help us to stand out as a Christ-centered school of excellence.

* Our students succeed! For the past 15 years, our average ACT scores have placed us in the top two schools in our region. We have also won two awards from the ACT testing service for our continued academic success - the Red Quill award in 2008 and the Red Quill Legacy award for sustained achievement in 2011. We are also proud of the fact that our graduation rate is 100% with nearly 95% of our students going on to at least a two-year post secondary education. Our students report back with excellent feedback on their preparedness for the next level of their education.

* Small class sizes. Going to a large school of 500 or more students may have some advantages but developing personal relationships with fellow students, teachers, coaches and administrators is something that our school allows for very well. Our tight-knit community of support helps young people grow in a culture of trust and safety that few schools offer. Teachers are also able to give individual students more of their attention which only helps to add to the experience at Lutheran High.

* Opportunities abound! Students here have unlimited opportunities to explore their talents through artistic, academic, service-oriented and athletic opportunities. We don't 'cut' students from teams or groups which helps young people feel free to get involved and to discover their God-given talents and interests.

* Jesus is at work! Our faith-based environment and emphasis helps young people grow with the knowledge that God loves them. Our students hear the Gospel message daily and come to understand that Christ's love knows no bounds as He calls us to love our neighbors and the community at large.

Please contact the school today to schedule your visit. Help your son or daughter blaze their own trail at Lutheran High!

Our Admission Policy
N.E.W. Lutheran High School admits students of any national and/or ethnic origin to all rights, privileges, programs and activities generally accorded or made available to students at the school. It does not discriminate in the administration of its education policies, admission policies, scholarship and financial aid programs and athletic and other school administered programs on the basis of race, ethnicity or religion.