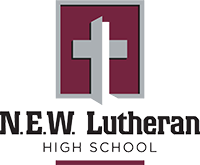 Support N.E.W
ANNUAL FUND
The Annual Fund has been established as a means for our community of support to give generously towards the operations of the school.

In a series of specific communication, we tell the story of what God is doing at our school and how our young people have been impacted through the generosity of so many. It's a great way to interact with those who may not be able to witness ministry in action at Lutheran High.

To be included on our mailing list, please contact Office Manager, Kristin Voskamp at 469-6810.
SCRIP
Scrip is another way to support NEW! It's so easy!

How it works - Gift Cards can be purchased both at school or on the app. The percentage that is given by the Vendor is given right to NEWLHS. For example, if a $100 Gift Card lists a 10%, it would cost you $100 but NEW would receive $10! It's a win-win for everyone!

Directions on how to sign up are on the Scrip form. Simply click on the link above! Thank you!
LEGACY ENDOWMENT FUND
The newly created Legacy Fund is an endowment established to advance the mission of Lutheran High.

The primary function of this fund is to generate student scholarships. The fund grows through designated gifts and through planned giving from individual estates. Additional resources are invested through grants and the sale of real estate and personal property that may be gifted to the school.

For more information on how you can leave your own legacy at Lutheran High, please contact Executive Director Mr. Chris Nelson at 471.5754.