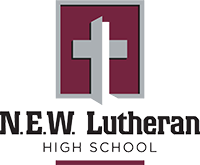 MUSIC
Music is an integral part of the Lutheran High experience and we are blessed to provide our students with many ways for them to get involved and to explore their musical talents.

Opportunities are available for all students in the following areas:
* Concert Band (for credit)
* Stage One Show Choir
* Alethia Praise Band
* Concert Choir (for credit)
* Pep Band
* Solo and Ensemble Regional Contests

Our students also perform at various churches, schools and community sites throughout the school year to honor God with their musical talents.

Concerts are held at Christmas and again in the spring to culminate each semester's accomplishments.

For more information on the music program at Lutheran High, please contact our Music Director, Mr. Jacob Van Dyke at 920.469.6810 or vandykej@newlhs.com.
THEATER

The NEWLHS Drama and Music Department have combined for this exciting venture - "Help! I'm Trapped in a Musical" is a fun, light-hearted look at what it would be like to attend a high school where the rule is that you have to sing and dance all day long! The first time Norma, the new student, steps foot in the high school the students are singing how great MONDAY is! There are other weird things happening too - a teacher talks to the pencil sharpener, strange 'students' attend classes with microphones and detention is given if you don't follow the 'rules'.

Save the dates - November 11 (7pm), 12 (7pm) & 13 (12:30pm) to what all the hub bub is about!
2021 WREATH SALE

The 2021 Music/Drama Department Wreath Sale has begun.

Merry Christmas!
We know it's a little early to start playing Christmas Carols but it's not too early to start preparing for the Christmas Season! Why not decorate your home with beautiful, fresh, good-smelling wreaths/swag and support the NEWLHS Music & Drama Departments at the same time?

We had a very successful sale last year - thank you for your support! Part of the success was the online ordering convenience! It is so easy to order - for your convenience, we offer 2 payment options. You can pay by credit card when you check out - OR- you can mail your check to the school. 1311 S Robinson Ave, Green Bay, WI 54311 (Please write "wreath sale" in memo)

Order today! Sale ends Nov. 4th - remember this is LOCAL Pick up ONLY

Shipment is due to arrive just before Thanksgiving. Unless you've arranged with your student to deliver, we will offer curbside pick up at the school once we know the delivery date.

Thank you!