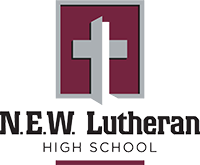 HISTORY OF LUTHERAN HIGH
The seeds for the creation of Northeastern Wisconsin Lutheran High School were sown during the summer of 1975 when two couples were moved to determine the feasibility of starting a Lutheran high school in the Green Bay area.

They conducted a survey which revealed sufficient interest in Christian secondary education. Out of a meeting at Pilgrim Lutheran Church, a steering committee was formed, and NEWLHS was on its way to becoming a reality!

In 1977, we started out with 34 students while located at Pilgrim Lutheran School. Our school changed locations three other times before settling in at the current location on Green Bay's east side in 1993.

NEW Lutheran High School has helped families prepare Christian leaders for the past 40 years, with many outstanding academic, athletic and artistic achievements taking place.

The thing that our school takes the most pride in, however, is to see our alumni stay strong in their faith and engage the world as young Christian leaders regardless of their occupation. We are proud of the husbands, wives, parents, citizens and friends they have become. Seeing our mission of Helping Families Prepare Christian Leaders lived out is incredibly gratifying and humbling.

To God be the glory for the opportunity to serve Him and the world in this way!
WHERE OUR STUDENTS ARE FROM
Our students come from all over Northeastern Wisconsin!

We are blessed to have a system of supporting K-8 schools that many of our students come from, including:
* Pilgrim Lutheran School - West Green Bay.
* Green Bay Trinity Lutheran School - East Green Bay
* Zion Lutheran School - Wayside
* St. Paul Lutheran School - Montpelier/Luxemburg
* Celebration Lutheran School - Appleton

However, many of our students enroll from public, private & home school environments, including:
Aldo Leopold Community School (K-8) - Green Bay
Edison Middle School - Green Bay
Red Smith School (K-8) - Green Bay
Washington Middle School - Green Bay
Lombardi Middle School - Green Bay
Franklin Middle School - Green Bay
Bay View Middle School - Howard/Suamico
Parkview Middle School - Ashwaubenon
Pulaski Middle School
St. Paul Lutheran School - Green Bay
St. Mark Lutheran School - Green Bay
St. Paul Lutheran School - Bonduel
Trinity Lutheran School - Menasha
Luxemburg-Casco Middle School
De Pere Middle School
West De Pere Middle School
Father Allouez-(St. Matthew/Resurrection) Catholic School - Green Bay
St. Bernard Catholic School - Green Bay
Holy Family Catholic School - Green Bay

In addition, we have established relationships with several organizations to allow for international students to join us, giving our school a rich and dynamic cultural experience.

While many of our students happen to be Lutheran, we certainly have many others that are from different Christian denominations, schools (private, public and home school) and cultures allowing Lutheran High to provide a wonderful atmosphere to learn and grow in. From Algoma to Bonduel and from Oconto to Neenah, we are truly a regional school providing the strong educational community of faith that families are looking for.

Visit us today to give your son or daughter a chance to Blaze his or her own Trail for Jesus!