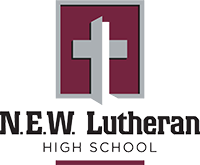 Announcements
Good morning, N.E.W.! Here are the announcements for Friday, October 15th. Today is a B Day.


`The Bible verse for this week is taken from Zephaniah 3:17 - The Lord your God is in your midst, a mighty one who will save; he will rejoice over you with gladness; he will quiet you by his love; he will exult over you with loud singing.

Our Prayer Person today is Yannick Von Kloppmann

Happy birthday to Brynn R!

We continue to pray for Sydney, Timm, Maddie, Bonnie, Haily's Aunt Tonya, the Newdiger and Laatsch families. We add Mrs. Gibbons's father-in-law to our prayer list as he was admitted to the hospital yesterday.

Blazer of the Week is Joey S. Blazer of the Week next week will be Sophia H!

Today's lunch is Lasagna. Next week's lunch will be Chicken Alfredo.

Another huge change with the Bucket Challenge amounts - Wax Job took the lead today with One Chip following. Baldy is still in 3rd with $18.05 and Slimed is last with $6.40.

Musical Practice after school for Dances.

Congratulations to the Soccer team for their win over Kewaunee last night - 9-0!

Blessings to the Soccer and Volleyball teams as they play tomorrow in Tournaments.

Lord's Blessings to everyone. Have a great day NEW!