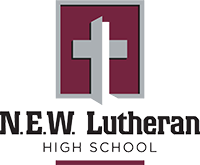 Announcements
Good morning, N.E.W.! Here are the announcements for Friday, January 21st. Today is a B Day.


The Bible verse for this week is taken from 2 Peter 3:8 ~ But do not overlook this one fact, beloved, that with the Lord one day is as a thousand years, and a thousand years as one day.

Our Prayer Person today is Audrey B

Happy birthday to Dayton T! His birthday is Sunday.

We continue to pray for Sydney, Timm, Maddie, Bonnie, Dani's Uncle Dave, & Audrey's Grandma.

Blazer of the Week is Brynn R. Next Week's Blazer of the Week will be Tristian L.

Today's lunch is Mac & Cheese. Monday's lunch is Quesadillas.

Drama Practice today after school is for I Did It! And Hamster.

Congratulations to the Girls Basketball teams for their wins last night.

Boys Basketball tonight at home against Southern Door HS. Blessings on your games! The theme is Hawaiian.

Tonight is the Chili Challenge of the Churches as well as there will be tours given to visitors. Be sure to clean up everything above and around your lockers.

Next week is Lutheran Schools Week - here are the Dress Up days:

Monday-white out
Tuesday- Jersey day
Wednesday- Tie dye
Thursday- Blazers Spirit wear
Sweatpants can be worn if the students participate in the themes. Otherwise normal dress code is expected.

Lord's Blessings to everyone. Have a great day NEW!